An artwork that was returned earlier this year – decades after the Nazis seized it from a Jewish family – has been sold at auction, raising £60,000 for Magen David Adom UK.
Christ As The Man of Sorrows, a wooden sculpture believed to have been carved around 1480 by Heinrich Iselin, was put up for auction as part of the Sotherby's "Old Master Sculpture and Works of Art" catalogue.
The sculpture had been part of an art collection seized by the Nazis which had been amassed by Harry Fuld Sr, an entrepreneur who had founded one of the largest telecommunications companies in Europe, the H. Fuld & CO telephone and Telegraphenwerke AG.
After he died on a business trip to Switzerland in 1932, his son Harry Fuld Jr, inherited the company and the art collection.
After the Nuremberg Laws were imposed in 1935, the company was seized by the state, with all Jewish shareholders and around 1,500 Jewish employees forced to leave.
In 1937, Harry Fuld Jr escaped to Switzerland, hoping to bring out his art collection later.
But it was seized by the Nazis, and during the war, was kept by Kurt Gerstein, an SS officer who helped supply Zyklon B to the gas chambers of some of the Holocaust's most infamous death camps.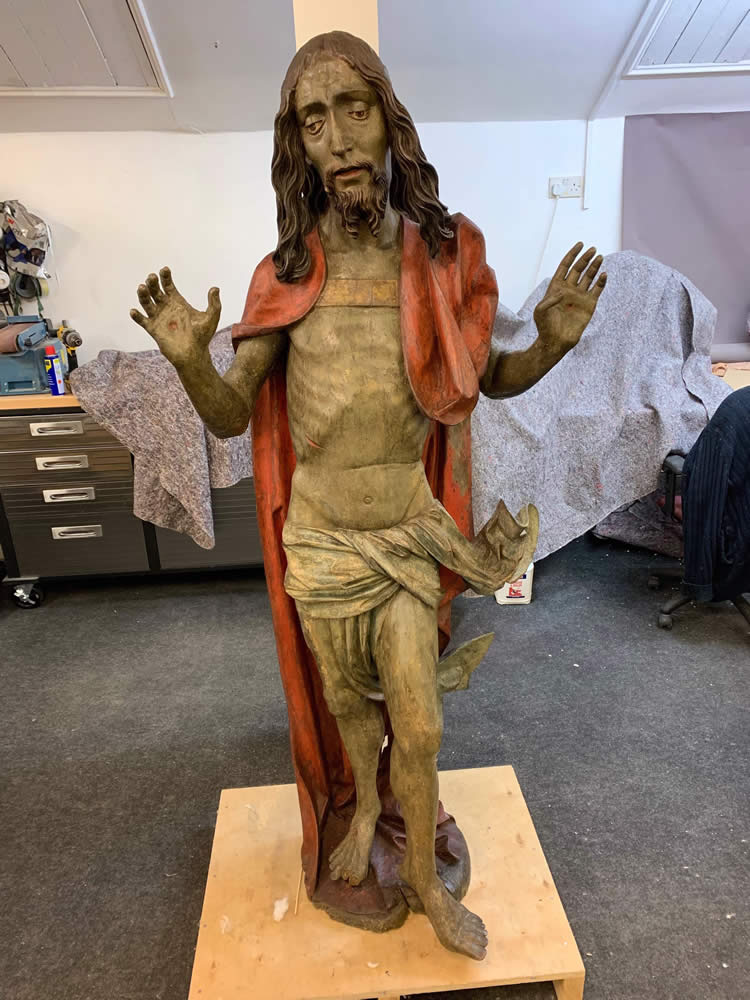 Gerstein killed himself in 1945 while under arrest.
In the 1950s, Christ As The Man of Sorrows found its way to a church in the West German town of Erkrath, the parish of St John the Baptist and the Assumption of Mary.
It was returned to the Fuld estate earlier this year after a protracted negotiation with the church.
Harry Fuld Jr died in 1963, willing his entire estate to Gisela Martin, his housekeeper.
She willed these holdings to Magen David Adom UK, the British branch of the Israeli medical services charity.
Various works of art which were known to have been part of the Fuld collection have since been returned to the estate.
In 2008 a Matisse painting, Le Mur Rose, which Harry Fuld Sr bought in 1914, was returned by the French Ministry of Culture to Magen David Adom UK at a ceremony in Paris.
In 2010, the Israel Museum returned a Paul Klee painting, Veil Dance, after it was proven to have been a part of the Fuld estate.
It is amazing that long after the death of Harry Fuld Jr, his estate continues to grow as his art collection is slowly but surely restituted to the benefit of Magen David Adom UK and the people of Israel.